Hey everyone,
It'd be awesome to have outlines collapsed by default.
---
Daily notes need to be collapsed every time
In my case I keep I find this specially useful on my daily notes. I keep a lot of structured outlines and I find my self using double tab constantly to close it all.
For instance on returning to an specif page / daily note
this is that view that I'd like to see by default
Collapsed by default (ideal)

Expanded by default (current)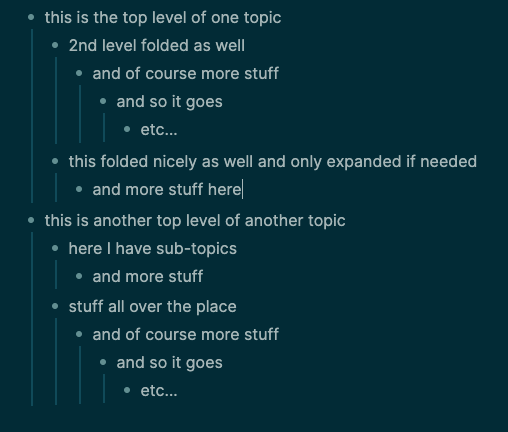 Double tab
pressing tab twice collapses the level 1 outline, but it doesn't seem to collapse the levels under it
What I mean is that after using double tab and choosing to expand a level 1 outline everything unfolds under it.
Sub-levels also collapsed (ideal)
That way after uncollapsing level 1 things would look like this, instead of every sub-level uncollapsed

Suggestions to adding this feature
One of my favorite things of Logseq is how it uses so many awesome aspects of org-mode.
Collapsed by default but with individual pages expections if needed
What'd be amazing is to be able to choose a default visability, in my case I'd like to have everything collapsed by default.
but there are also ways in org-mode to determine a certain behaviour for specific pages as seen in this following link…
Org Mode Initial Visibility Documentation
---
Thanks for the excellent tool, truly loving it and this feature would truly enhance my use of logseq and the use of many others!