I am very grateful that there finally is an Android app and am looking forward for stable sync (that is on par with Roam: meaning near-instantaneous, no data loss and no coding skills or straining set-up required.)
What I would love to see for the update is improved bars, both the one when typing (see image 1) and the one while looking through the graph (see image 2).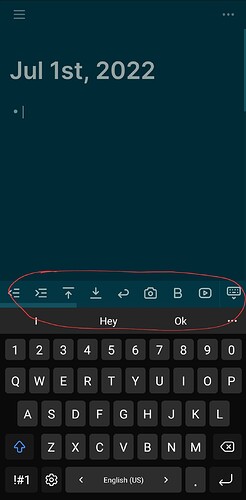 Image 1
It would be great to be able to rearrange these buttons, to be able to choose what one sees instantly and what one sees only when dragging the bar to the left. I understand that currently they are based on most recently used but I would love to have them a) at the same place of b) my choice.

What I miss here entirely though is being able to add voice notes, which are only accessible through the scroll-through bar - see image 2. These voice notes are only added at the bottom and cumbersome to move around (one needs to cut and paste the reference to the desired block).
I would love to just add them in the block where I am at in the moment!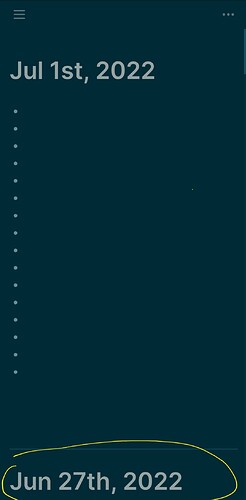 Image 2
As shown in image 2 the lower bar when scrolling through is not always visible which makes it cumbersome to go to search sometimes.
It would also be great to be able to customize the lower bar. I don't need the toggle for views for example.