Hey Logsequers,
Hey I just published my first Logseq Theme Cobra
The code and instructions can now be found in Github here:
Cobra Logseq Theme | Code In Github
It's heavily based around the color scheme of my Obsidian Theme Wasp
Dark mode
This theme was mainly made for Dark Mode.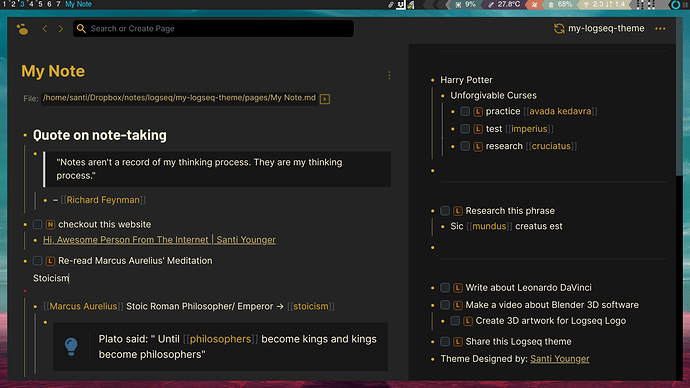 Light Mode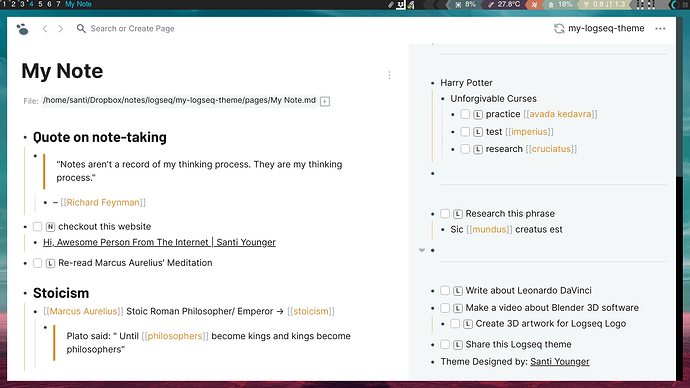 However it does have a nice simple light mode too. It's not as complete as dark mode yet though
How to set up
If you are an advanced user you know what to do, git clone this repo and put it the custom.css in /logseq/custom.css
Beginner friendly method
If you consider yourself a beginner, this is how to do it.
Download
Download this theme by pressing the green button called Code at the top right corner.
Click on Download Zip
Once it's in your downloads folder unzip it.
All you'll need is the file called custom.css feel free to delete everything else (the other files are for my own reference)
Move that custom.css file to your logseq notes in the folder called logseq, there will already be another empty custom.css file there. Delete that one and replace it for mine.
How to update this theme
I will keep updating this theme over time. So I recommend you repeat the download process every now and again for updates.
In the future Logseq might provide a nice way to quickly update themes, but until then it's a very manual process.
Credits
Huge thanks to the Logseq theme for creating such an amazing piece of software. I truly think Logseq has the potential to be a perfect solution for many of us outline thinkers.
Big shout out to @cannibalox for his amazing theme logseq-dark-hpx which I used as a template to create this one with his permission.
Hope everyone enjoys it!