Hello. Maybe this one would be easy for someone with some expertise.
I am starting learning datalog and need some help with this "simple" query. I need to:
Query that finds TODOs with schedule or deadline for today.
Query that finds the DOINGs (no matter if they have any schedule/deadline)
Do not show child tasks. But if one child task meets one of the previous conditions, it should have its own output.
That is (see screenshot), if this is the task list, the query should extract only the red ones and in different rows wihtout showing sub blocks.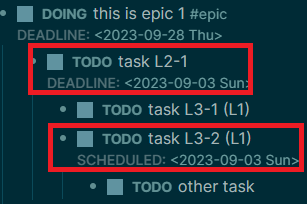 I implemented Points 1 and 2 and works fine, but I dont' know how to implement point 3.
Any advice?? THANKS!
#+BEGIN_QUERY
{:title "(TODO Schedules or Deadlines for Today) OR (just DOING)"
 :query [:find (pull ?block [*])
         :in $ ?today
         :where
         (or-join [?block ?today]
           (and
             (or
               [?block :block/scheduled ?d]
               [?block :block/deadline ?d])
             [(= ?d ?today)]
             [?block :block/marker "TODO"])
           [?block :block/marker "DOING"])]
 :inputs [:today]
:breadcrumb-show? true             
     :result-transform (fn [result]       
                       (sort-by (fn [b]. 
                                 (or (get b :block/scheduled) (get b :block/deadline))) result))
    :collapsed? false 

}
#+END_QUERY