Hello all! I'm a former software engineer turned homeschool parent. I have some questions. In a relational database I might have called them database schema questions, but in Logseq they might be query questions or maybe property questions instead.
I used to use Airtable to track the books that my kids read (this information is helpful for end of year reporting). Querying Airtable and exporting data from it are easy. Getting that data actually input from my phone has been more difficult so I am trying to use Logseq instead, since we're already using it for a variety of other purposes.
I have a template defined for a [[Reading Log]].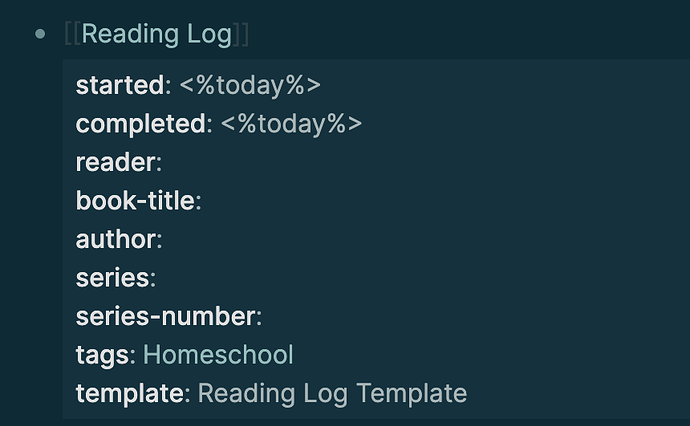 As my kids finish reading books, I add Reading Log entries to the daily journal. They end up reading the same books, sometimes more than once, which means that I end up entering the same book-related information repeatedly. The relational database part of my brain doesn't like that.
How can I reduce the data duplication? It seems like I could make a page for each book they read, and make page properties for author, title, etc. The difficulty comes when I want to combine that information with information from the Reading Log in a query result table. I haven't been able to get a query to return information from more than one block type.
tl;dr: How do I reduce data duplication in block properties. Can I retrieve properties from child blocks and combine them with parent block properties?
Thanks!