Hello,
I was wondering if there's a way to have a journal pages generate namespaces on creation like: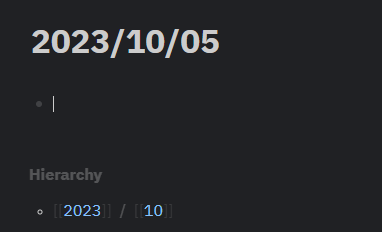 Choose that format in the settings > editor > preferred date format.
Hello,
I'm aware you can change the format of the page title, but it doesn't create the namespaces with the year, month, day.
What i'm looking for is to have this generate whenever a new journal page is created.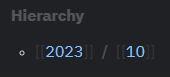 That is exactly what it does actually

/ in a page title creates a namespace. That's all you need and also the only way to create a namespace.
Duh, you're right

I thought it wasn't the case because the hyerarchy on the screenshot was made manually but once i made the change, reindex and went to a new date it created the namespaces.
Thank you!
What does the ability to create a namespace via title syntax buy you?
I was looking to have the journal pages create the namespaces automatically. I wasn't aware it would actually do it if you set the date with the /.
Right. I'm just asking why you're interested in having namespaces in Logseq?
So that i have everything organized in a hierarchy of year, month, day.