This is perhaps my biggest painpoint with Logseq as of now.
I'll start by explaining what I mean by "flexibility in page layout". So a logseq page can have these components (as shown in the following screenshot):
Title
Page properties (e.g. alias)
Page content
Linked references
Hierarchy
Unlinked references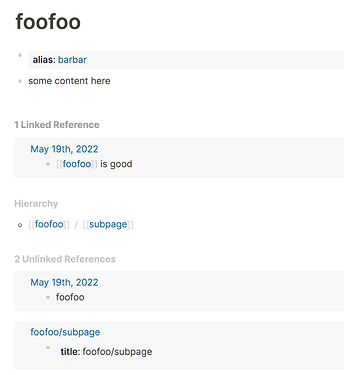 These components follow a fixed order in the layout:
Top
Title
Page properties
Linked references
Hierarchy
Unlinked references
Bottom

Some components may not be present, but the rest still follow this order.
Sometimes, I really hope I can:
Put Linked references on top of the page.
Because I left some TODOs in daily journals, expicitly tagged with this page's title.
Put Hierarchy on top of the page
I use hierarchy to organize big topics like "C++", and hierarchy serves as an "index" for this topic. Just like you would expect the table of content to be in the very first few pages of a book.


More, I don't remember at the moment
Overall, these needs all come down to flexibility in page layout, i.e. to allow users put different components in the order they like.
There will probably be some restrictions, like title and page properties need to be on top, which is fine. But I feel people would have different preferences for how to organize the rest of the components, and there really isn't a unified answer. If we were to add this feature, users should be allowed to configure the layout on a per page basis.
I remember this topic (specifically, put linked references on top) have been brought up several times on Discord. But I searched Discuss/GitHub, and didn't find any feature request for it. I would really hope this could be added to Logseq one day, which shall hugely improve usability and empower more ways of using the software.