Hey,
I'm doing something crazy with nested graphs, which works great for me so far, but I'd love to know if there could be potential conflicts on doing this?
---
What I'm doing
I have a Logseq graph inside my existing graph, let's call this a "Nested Graph"
Why I do this
I do this so that I can easily filter out my private notes, from the ones I intent to make public with "Logseq public pages"
Since I'm also planning more YouTube videos for Logseq. This is a great way for me to filter all my private notes.
This is the folder structure I have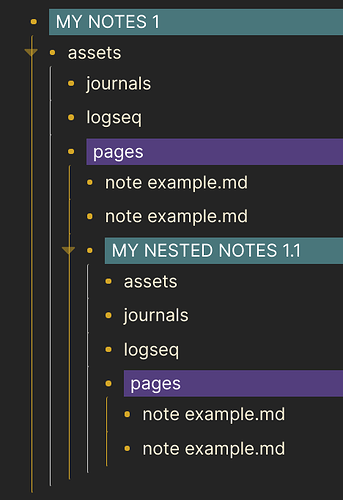 ---
So far this works great, the only conflict I have is when I switch from MY NESTED NOTES 1.1 to MY NOTES 1 I need to Re-Index Graph, other wise Logseq seems to confuse the daily page from one graph to another.
---
Would love to know if anyone else is doing this, or sees any potential issues.
Of course I'd love to know @tienson and the Logseq team, can see any potential issues with doing this in relationship to the refactoring and future of Logseq's development.
Thanks!!