Hi guys,
my graph is filling up more and more and i am starting to question some of my approaches. One thing i am not sure about is tagging every block vs. using block properties. As i understand, both should be basically the same. A block-property is inherited by every child of the block.
Let me explain by using some visual examples. I made two book-summary as. For one (bible) i used block properties (and marked the words in question, as i usually do):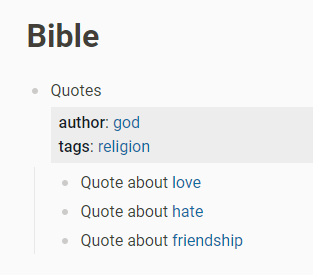 For the other one (lord of the rings) i used tags at the end of every block: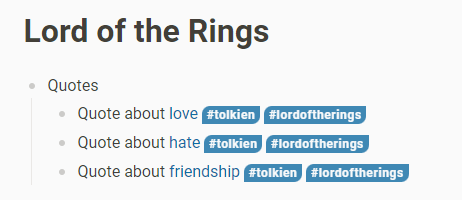 If i query for "love", there is no difference. Both quotes are being found.
If i query for "love" and "god", or "love" and "tolkien", again the results are found. This tells me that indeed the parent-block-properties are also part of the child-block-properties.
But if i want to go without my own queries and use the built in ones (filters on pages), than it doesn´t seem to work the same way. If i am on the love page and want to know "hey, what did god say about love" no "god" filter is shown.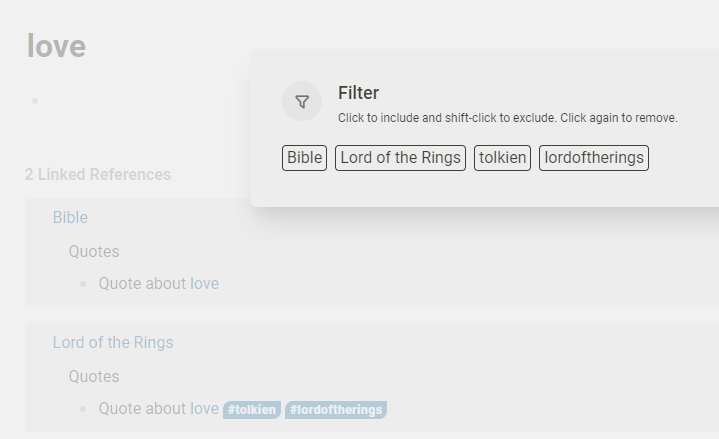 I hope i did make my point clear. I use tags on every block because of this, but i would really like to keep things simple. And block-properties that are part of every child block would be way easier on the eye.
Let me know if you have some solutions for this problem. Also, if i got something wrong, don´t be afraid to teach me a lesson.
PS: bible and lord of the rings are just some well known examples. don´t be offended