My configuration:
Device: Intel NUC
OS: Win 11 Pro updated
Logseq: 0.8.15
See screenshots of the bug in action for reference.
I have since 0.8.14 been experiencing a very annoying bug where Logseq will suddenly announce a 'write file' error – an Ebusy error. Often when that happens, what I've just been typing vanishes and I have to retype it again… as though Logseq was pulling in the latest disk version which is a few seconds older than what I'm typing.
Screenshot of error: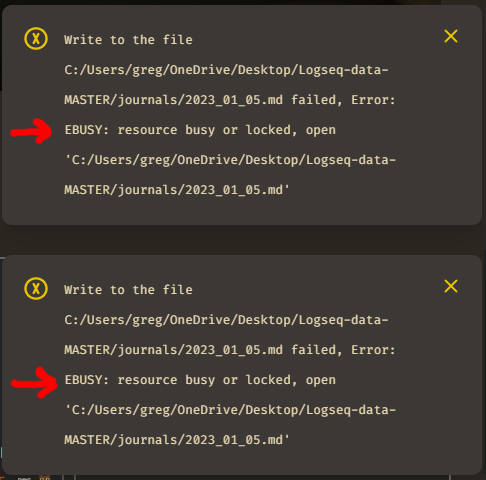 Then, at times it will escalate and present not only the error messages, but also prompt me to choose between the "file version" and the "Logseq version" (presumably in memory). Invariably, the Logseq version is the most recent.
Screenshot: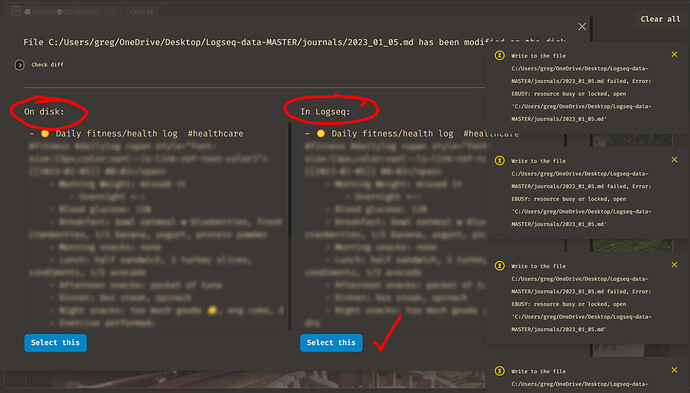 I've set about troubleshooting this.
I am using OneDrive. However, I've experimented with terminating OneDrive , yet same problem persists. And, on top of that, I've also turned off file Indexing (Windows) just in case. Even with both OneDrive and Indexing taken out of the equation, I still get the same issues, though perhaps a little less frequently, though still once every 5-10 minutes.
Has anyone else been experiencing this issue? Quite a pain.
Thanks.