I have managed to have a Checkbox on the first line of a Block with a Markdown Trick that allows me to have an empty, null-pointing URL that occupies the first line of the block. On the second line I place the actual Checkbox but, because the first line is empty, it gets "drawn" on the first line actually achieving a Checkbox similar to a TODO checkbox:
- [](.checkbox " #movieGenre ")
* [ ] 

The only caveat is that I get now two bullets and it is not aesthetically appealing. Is there a way, with a custom CSS to hide the bullet of the Checkbox?
I get this rendering in Logseq:

, while in VSCodium I get: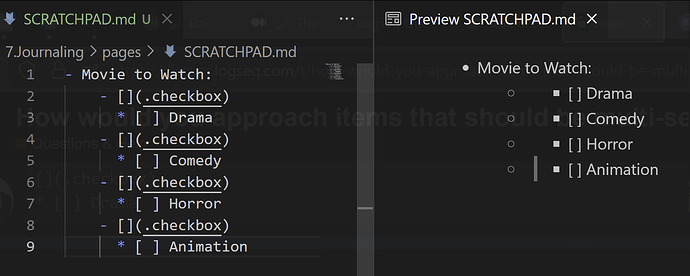 I would like to get rid, with CSS, if possible, of the characters after the Block Bullet. I am not sure what whitespace characters are there, I assume a tab and the bullet itself. Can it be done with CSS?
As a side-note, I am trying to achieve this because Checkboxes are not Primitives in Logseq and because I am using atm TODOs to fill in for the need of a checkbox, which is nok as it's polluting my TODO queries so, until I will be able to define a TODO Workflow that says "Checkbox" > "DONE" I have to rely on this hack. I have already REGEXed my whole graph to replace the TODOs that are just placeholders for Checkboxes (fortunately, I have them added by templates and it was easy).
Thanks.