when I use logseq in one computer with user name is userA, the annotate pdf path is /User/userA/Zotero/…, while I switch to another computer with user name is userB, the pdf path in the note is falied, I think it should use relative path for all attachments…
For example, Computer 1 is Windows , and computer 2 is Mac, they have different Zotero data path.


The annotation file (with filename of "hls XXX…" ) created on Mac can not be opened on Windows.
See: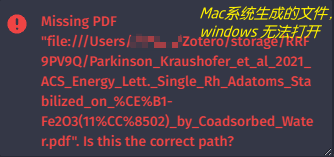 PS: I noticed that someone also suggested this request.