I wish to have a discussion and some help on how I might leverage the whole bi-directional linking structure of my graph. How would I go about finding connections or whatever?!
The graph view is completely unhelpful for this. And maybe the structure of my graph is wrong in the very basis of it, that's fine feedback too.
However I just feel like I get no extra value out of my graph at the moment.
The problem is not that I cannot find my notes, my graph has enough structure to find whatever it is I'm looking for quite easily.
The problem is that I cannot extract any extra value out of the information I have put in.
I have read a lot in the past and articles etc. would often state that given enough time things will "emerge". Well, I've been using Logseq for nearly a year and things are not "emerging"

(I find that a very vague way of putting things anyway and I never found anyone concretely explaining what they mean with it)
In a very unhelpful way, here's what my graph view looks like: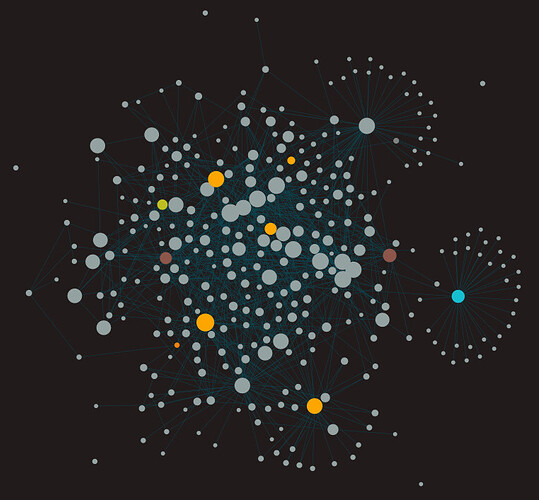 You can make out three neat sections, these are pages tagged archive (orange dot), pages tagged games (grey dot) and 1 namespace (blue dot).
The unconnected pages are my dairy tag, start page, and 3 tags to classify notes (exploration, investigation, insight).
And everything else is simply a mess!
So this view is not going to help me reach my goal at all

Then my question is, how else would I go about leveraging all this data I have collected. A major chunk is just life data really, but there are also some notes here and there. (would love to leverage that life data though)
As you might have suspected, no atomic notes here though


Are those required for this?
My graph right now uses the PARA method for structure, while I log things using ideas taken from the Bullet Journal Method.
My hierarchy consists of:
PARA

specific Area (tags:: Areas)

page related to area (area:: Area)
Projects, resources and archives generally don't even have subpages.
My deepest linking is with the area Hobby as Hobby is more a level between PARA and a specific hobby. (e.g. PARA > Hobby (tags:: Areas) > games (area:: Hobby) > specific game (area:: Hobby subject:: games) )
Love to hear all your thoughts on this

I know this is a bit vague, but I'm not sure how to make things more concrete. Happy to provide additional information.