It's time to vote on the Logseq Logo Community Contest!
The submissions are in, the clock has stopped, and the finalists have been chosen. With over 50 amazing designs, we've paired it down to the top 12. Now we want you, the community, to decide who wins the big prize: being immortalized in time as the official winners of the Logseq Logo Community Contest

Oh and of course, there are the cash prizes. Remember:
1st place will receive $1000
2nd place will receive $500
3rd place will receive $300
The vote will run until and through Sunday July 9th (it will close midnight GMT+2). Everyone can vote on up to 3 items, and you'll be seen the results of the poll after you vote.
Share this post with friends, family, and followers and let the best logo win!
Without further adue, the finalists are (higher resolution available until the end of the contest here):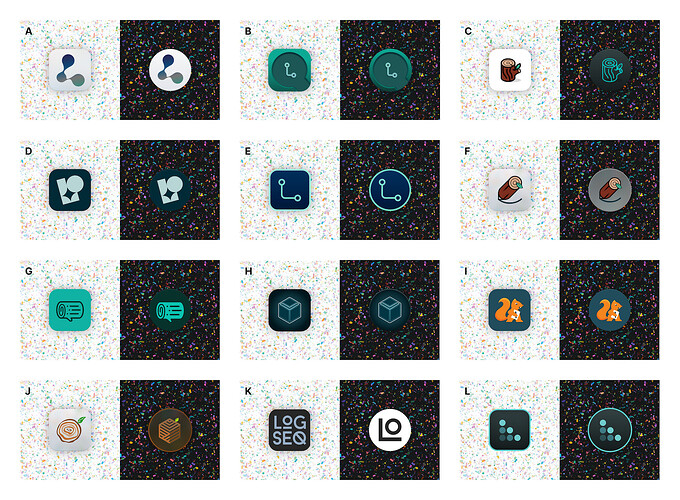 Top logo entries
Option A: Organic connection
Option B: Recessed nodes
Option C: Upright log
Option D: Bold shapes
Option E: Neon nodes
Option F: Log pencil
Option G: Log scroll
Option H: Glowing cube
Option I: Studious squirrel
Option J: Geometric cross-section
Option K: Upbeat typography
Option L: Triangular dots
Once again, a huge thank you to everyone in our community who shared their time, designs, passion, and feedback in the submissions thread